Corporate Gifts
We have great gifts for everyone on your Christmas list!
What better way to say thank you to your friends, family, clients, employees or yourself? Treat someone to a taste of Toledo tradition!
Shipping is not included in any prices.
Orders of 20 or more gifts, placed before December 5th, will be given a 10% discount before shipping. To be guaranteed for Christmas Delivery orders must be confirmed by Monday, December 16, 2019.
---
Option 1: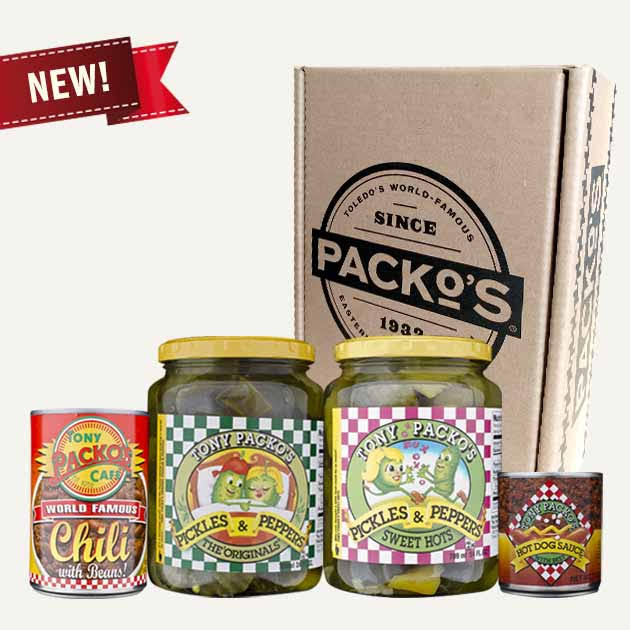 The Original Tony Packo Gift Pack
$24.95
1 Jar of Tony Packo's Original Pickles & Peppers
1 Jar of Tony Packo's Sweet Hot Pickles & Peppers
1 Can of Tony Packo's Chili with Beans
2 Cans of Tony Packo's World Famous Hot Dog Sauce
Option 2: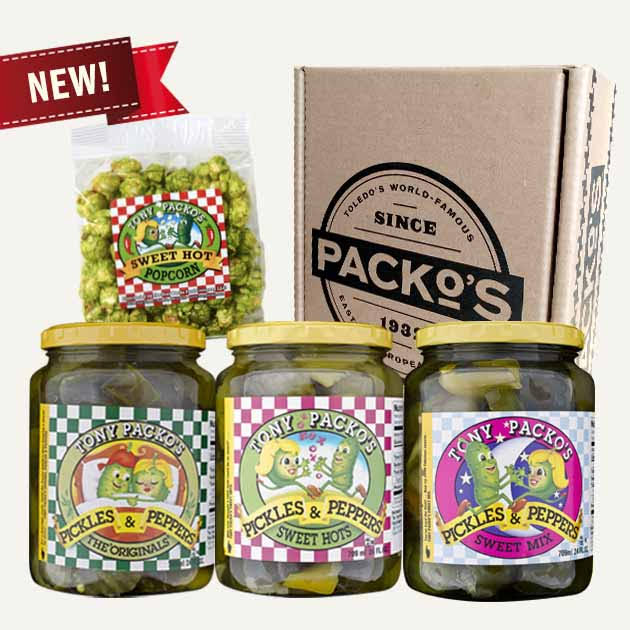 Tony Packo's Pickle Lover Gift Pack
$29.95
1 Jar of Tony Packo's Original Pickles & Peppers
1 Jar of Tony Packo's Sweet Hot Pickles & Peppers
1 Jar of Sweet Mix Pickles & Peppers
1 4oz Bag of Tony Packo's Sweet Hot Pickle Popcorn
Option 3: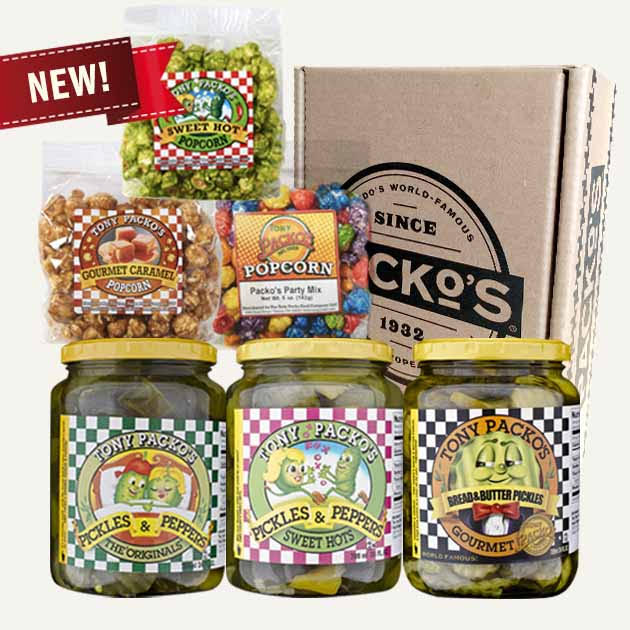 Tony Packo's Pickles & Popcorn Gift Pack
$39.95
1 Jar of Tony Packo's Original Pickles & Peppers
1 Jar of Tony Packo's Sweet Hot Pickles & Peppers
1 Jar of Tony Packo's Bread & Butter Pickles
1 4oz Bag of Tony Packo's Sweet Hot Pickle Popcorn
1 6oz Bag of Tony Packo's Gourmet Caramel Popcorn
1 5oz Bag of Tony Packo's Party Mix Fruit Flavored Popcorn
Option 4: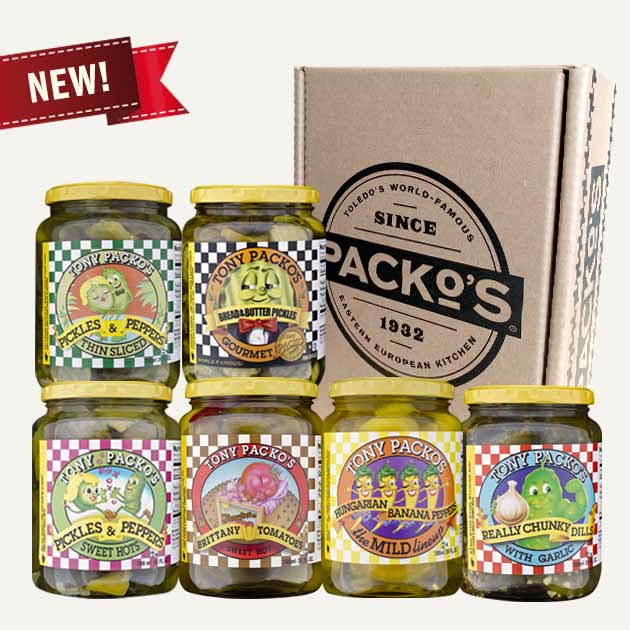 Tony Packo's Unique Blend Gift Pack
$46.95
1 Jar of Tony Packo's Brittany Tomatoes
1 Jar of Tony Packo's Sweet Hot Pickles & Peppers
1 Jar of Tony Packo's Mild Hungarian Peppers
1 Jar of Tony Packo's Thin Sliced Original Pickles & Peppers
1 Jar of Tony Packo's Bread & Butter Pickles
1 Jar of Tony Packo's Crunchy Garlic Dill Pickles